Update April 6, 2018: The app has received a couple of updates that have resolved problems 1 (calling notifications), 2 (Teams is too quiet), and 4 (speed and stability is an issue).
Update April 24, 2018: Another update has come through that has resolved Problem 6 (Cannot share screens on mobile devices). 
This is a short introduction to how me and my team got started using Microsoft Teams app, our first impressions, our teething issues, and how we feel about it. If you want to see what other suggestions I've made, they're at Better Software Suggestions. If you want to see what other suggestions other people have made, they're at User Voice.
I want to share an email I sent to the company. The way we communicate is incredibly important and change can be hard. I'm very proud of the way the guys continually embrace change. This is a change that you might want to make in your organisation too.
Hey @SSWAll,
A few of us have been trialling Microsoft Teams for many weeks and I believe it is now ready for everyone at SSW to join the fun.
To start with please do *all* Daily Scrums with Microsoft Teams instead of using Skype. That will be a good start. If you are happy then continue to expand your use of Microsoft Teams.
Making collaboration as simple as possible has always been a fundamental need SSW and Microsoft have released Teams to help make this easier. As with Skype, users can communicate directly to other staff members via the "Chat" tab or, now you can use the "Teams" tab to have a similar conversation with the group you're working with.
It might one day even replace emails like this – but I'm not ready to ditch email just yet! 😊
I know many of you love Skype. Change comes with some pain but I believe the benefits of Teams and its integration, will outweigh the pain over the long time. Let me explain…
Tabs simplify collaboration – this is the big one!
When you're having a discussion about the Northwind ordering system that you're building, you need to see your backlog, and of course it would be handy to see a OneNote diagram of the workflows. It might also be handy to see an Excel spreadsheet of the stakeholders and testers.
This is what separates Teams from other chat programs, such as Slack and Skype, is the ability to add Tabs to your conversations.
The number of tabs is really broad, and starts with the standard Microsoft products such as Excel, Word, and PowerPoint. You can also create tabs using Trello, YouTube, Zendesk, and more. The usefulness of this feature cannot be understated – it is so handy to have all your work items in one place.
You can see that Teams tabs are a one-stop shop for all the information your team could need. Like Skype, video chat is standard and is great for doing your daily Scrum with the team or quick face-to-face conversations.
Tips for SSWers using Microsoft Teams:
Stop using Skype for internal use
Skype will be hard to replace, but it's time for our instant communication to switch. The benefits are:

Integration with VSTS
Files linked to conversations
Inbuilt third party integration – YouTube, Trello, Zendesk, etc.
Stop using Slack
Pretty much everything you're doing on Slack today can be done on Teams.
One exception is the SSW In-And-Out extension which will remain on Slack. We have shared how this extension works with the community and at this stage there is no point to re-write it on a less popular platform
No need to visit SharePoint (Projects.ssw.com.au) to access your files
You don't need to navigate to your files at projects.ssw (our SharePoint 2016 document library) any more. Instead, navigate to the "Files" tab in Teams (isn't 'Files' a better name than 'Documents'!). Plus it is basically the same as what we have always used – just now an Office 365 Document Library.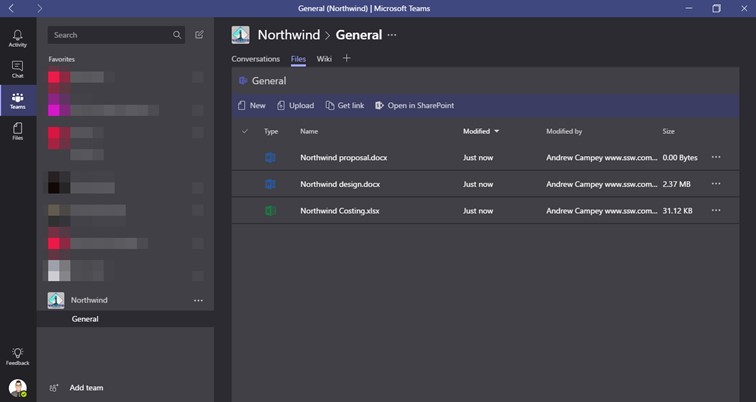 Stop using Skype/TeamViewer to share screens
If you're both on a laptop and want to share screens, Teams works fine.
Note: You still need TeamViewer if you're doing remote support and need to take control
Note: You still need Skype if the person you're sharing with is on an iPad
What are your suggestions for the Microsoft Teams developers over in Seattle?
I think, long term, that Teams is going to be amazing, but it's not perfect (yet!). I've been sending many emails of my complaints to the guys working on Microsoft Teams. They have been incredibly responsive and fixed heaps of issues just in the last month.
Here are some of the things that annoy me – I've already let Microsoft know. Let me know if there's anything you'd like to add:
Problem 1:

Calling notifications is weird


The notifications when someone's calling you must work as well as Skype – and right now it doesn't– sometimes on my PC I can hear it calling but can't find the button to answer, and have to go fishing through my windows to find the one to answer.
Problem 2: Teams is quiet
If you're in Teams, you should automatically be notified if anyone's talking in the team. The approach that's been taken is you only get notifications for Chats. To receive notifications on a Team conversation, you need to subscribe. I think subscriptions on PC should be by default, and then you can turn it off if you want
Problem 3:

Microsoft Teams – unnecessary notification groups

Why is this notification for a team shown in the "Activity" and not the "Teams" group?
Why do we have the "Activity" tab at all? I don't think it's needed.
Furthermore do we even need the "Teams" tab? I don't think so, I'd like them all together like Skype
Problem 4:

Speed and stability is an issue


The iPad app is solid. The PC app feels less so. Switching between conversations is appreciably slower than with other chat programs – granted it's only nanoseconds, but it's enough to be noticeable. Worse still, occasionally the app hangs completely. It seems that if you lose internet connectivity, the app crashes… which leads me to my next wish list item.
Problem 5:

Offline support


What I loved in Skype is I could send messages when I was offline, and when I reconnected to the internet, those messages would send.
Problem 6:

Cannot share screens on mobile devices


Most of the time, I don't use a laptop. I spend most of my days running between meetings and offices (currently, I'm on holiday in Greece), so I find it easier to use an iPad, but I've found one big drawback to this with Teams: There's no support to share screens on mobile devices. When I'm on a call with a developer, they'll often share their screen with me so we can discuss the specifics of their app or code. For that, we currently have to switch back to Skype.
Problem 7:

Cannot do remote control – remove the need for TeamViewer


We can mostly use Teams instead of Skype or TeamViewer on a PC.
I can even use Skype screen sharing on my iPad, but, sadly, not with the Teams app.
However, when we need Remote Control, we have to go back to using TeamViewer for this functionality. I'm looking forward to Remote Control being possible from within the Teams app 😊
Problem 8:

Federation


On Skype for Business, we are federated with Microsoft and other companies and we need the same functionality to contact new people. Currently with Teams, we can only contact people within our own organisation.
Vote for it on User Voice: https://microsoftteams.uservoice.com/forums/555103-public/suggestions/16911109-external-access-and-federation
Problem 10:

Let me add words to spell check

Figure: I can see that the spell checker doesn't like certain words – but there's no way to add them to the dictionary
In short, Teams is going to revolutionize the workplace for collaboration and productivity. It's not at 100% yet, but it's getting closer every day. I think many of our clients will also move to Teams in the next 12 months. You can now find me on Microsoft Teams 😊
-Adam Cogan