With so much of our time already dominated by Coronavirus, I didn't want my 2020 year in review to be just about the changes it has wrought on the world. I know in Australia we have all experienced the upheaval at work, the pain of the severe lockdowns, social isolation, and more importantly, the fear for the vulnerable.
Over the Christmas New Year Break I took an afternoon off with my girls, and we sat and wrote a retrospective of 2020 and then shared our highlights and lowlights with each other. We discovered that 2020 for us was about embracing change and lowering our expectations. Even though it was massively disruptive, the girls were able to see the positives. It was nice to hear them talk about the year like that, because it showed their resilience. My daughter Eve who is now 19, wrote a review of her year: https://evecogan.com/2020-a-crash-course-in-abandoning-expectations/ After that we did the same thing again with our goals for 2021. I always enjoy that time with my family.
Was Coronavirus good or bad for software engineers?
At work I did a more formal thing using Microsoft Forms to find out if the software engineers had an overall good or bad year.
I was happy to see that most of the devs were able to enjoy 2020 by embracing the changes, and even finding some perks. The biggest 3 positives were spending more time with their family, home cooked meals, and saving $ money. The others, were things like less traffic and learning a new hobby e.g. learning to play guitar.
When I do a form I always like to include an 'other' choice, and by and large it's not commonly used. If you look at the graph below it was very popular and included a whole lot of gems in it e.g. a whole bunch of positive achievements such as:
🏡 buying a house !
👶 having a baby !
🏋️‍♀️ weight loss and getting fit !
Obviously they are in a company where no one lost their jobs, and in a country where the number of fatalities was quite low (under 1,000).
However, it was not all roses for my team and these were the biggest struggles:
🛑 State border closures
🛑 International border closures
👨‍👩‍👧‍👦 missing family
😟 struggling with social isolation
😔 experiencing depression
👨‍🦽 one even broke his leg
Our year started with a lockdown and a number of our big clients putting projects on hold, probably due to being frightened. After a month or so, their eyes opened and the world hadn't ended in most industries and we got to work. I'm really proud of everything the SSW team have accomplished this year despite the upheaval. We have maintained all of our staff, been able to embrace online events, produced a bunch of large web applications for our clients, and even gained some awesome new clients along the way.
Here is a quick recap of our year: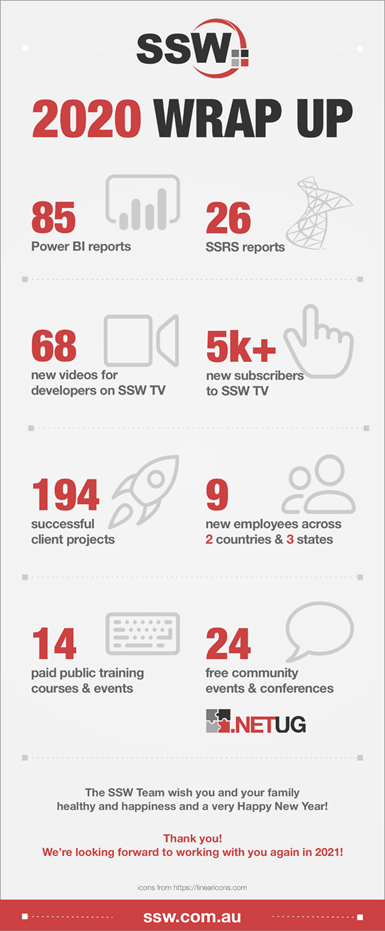 SSW's 2020 Projects
Full stack solutions using .NET Core, Angular and React have dominated SSW projects in 2020 (green slice). It appears that Dynamics CRM was less popular in 2020 when compared to 2019, but still outranks all the other common technologies. Office 365, SharePoint, and Software Audits were also common for SSW in 2020.
Drilling down into the technologies that SSW projects have seen greater technological diversity this year. There is still a strong demand for Angular projects, but there has been an increase in interest for Azure and React. You'll also notice that clients are choosing some cool new technologies such as Blazor and Power Apps, which I'm certain will grow in 2021.
Standout projects:
A hearing portal – Built a Dynamics 365 Portal that will help deaf children and their families to access online speech therapy & resources.
A police mobile app – Built in Xamarin & React this app was built to provide official digital diaries and notebooks for law enforcement and regulated industries. It is set to revolutionise policing.
A corporate wide API for an international property company – was built in .NET Core and is designed to allow the company to have independence from their 3rd party apps saving them big $$$ in licensing every year.
An insurance portal for Brokers to request insurance products – This project uses all the good stuff – Angular, Cosmos, B2C, .NET Core, Azure Functions, App Slots, Azure Service Bus with Queues & Topics.
An auction application – an exciting Blazor project that will help regional areas connect to live auctions via audio/video streams or pure VOIP streams. The new Blazor platform enables high frequency bidding on livestock & farm equipment – even when internet connections are flakey…
SSW TV
SSW TV is our awesome YouTube channel with 33k subscribers, that allows developers to learn for free. There's a bunch of great technical video resources including talks from our user group events, the conferences we're involved with, interviews with experts, and more. I'm really proud of it.
The analytics for SSW TV on YouTube, show that 2020 has continued our upwards trajectory, taking on another 5,000+ subscribers in that time. In the past 12 months, SSW TV:
Released 68 new videos to the public
Acquired 5,000+ new subscribers
Received more than 0.5 million views
Was watched for 3,061,020 minutes (that's 5 years and 8 days)
Our most popular video released in 2020 was 'Blazor Web Apps – Goodbye JavaScript! I'm in love with C#" by William Liebenberg, with 10% of new views in 2020. Our most popular video of all time is still 'Clean Architecture with ASP.NET Core 2.1' by Jason Taylor, which was released in October 2018. It now has 279,565 views and that is amazing considering it is over an hour long of deep technical content.
All up, we're at:
618 videos
33,161 subscribers
Over 3.6 million views
22,620,000 minutes watched (that's 43 years and 1 day!)
Conference and community engagement
One thing I really missed in 2020 was travelling the world to present tech talks to different developer community groups. However, I was still lucky enough to present virtually at NDC Oslo, and NDC Sydney.
Like many large tech conferences, NDC Conferences moved all of their events online, and it was hugely successful. The SSW team and I really enjoyed being a part of it.

SSW TV ran a track from the SSW Chapel in Sydney to film the 'Ask Me Anything sessions' with a bunch of NDC Speakers. I thought it would be cool to invite some of the Sydney based speakers to present live from SSW and I chatted to them before and after their sessions. We didn't want to leave anyone out, so we also had some presenters join in live via Microsoft Teams.
We were so lucky to have some great presenters, it was a fun few days.
My favourite talks from this year were:
"Best Practices on Building an Award Winning Consulting Business" with Todd Fine from Wintellect
"Chinafy your apps + Lessons you can steal from China"
Training Events & User Groups
SSW also moved our training events and User Groups online, combining our events in Sydney, Brisbane, Melbourne, the Gold Coast and Canberra for the first time.
We ran 14 online developer training courses covering topics like Angular, Clean Architecture, Azure, .NET Core and .NET 5. We started having developers from around the world joining us and some of the memorable and louder developers came from Puerto Rico, New York, and the Netherlands – despite the crazy time difference!
Our User Groups were the hardest to manage. Due to the speakers being in many geographic locations, at first we had to pre-record many of the talks and then broadcast it via the live feed. This wasn't a great user experience, and we really missed the human interaction. As soon as we could, we started streaming live Meetups using Teams (via the new NDI feature) and the YouTube comments allowed us to connect the speakers and the audience. Live questions make it a much nicer experience for the presenter and the audience, and made it more like an in-person event.
Hopefully 2021 will see a return to the in-person Meetups for the developer community. I certainly miss seeing everyone at our Sydney office, and visiting my team in Brisbane and Melbourne. Our China office has just hosted their first in-person event for the year, so hopefully Australia will be able to do the same soon.